The Hart Shot Shooting Stick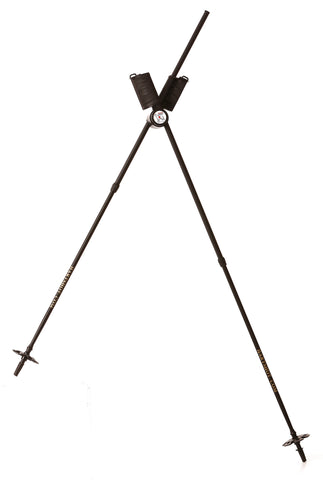 Adjusts in seconds between a lightweight walking stick and a sturdy, fully-featured hunter's bipod.
Make every shot a Hart Shot.
I designed and patented the Hart Shot Shooting Stick because I couldn't find anything like it on the market—something that goes where I need it and works when I need it.
The Hart Shot Shooting Stick transforms in seconds from a sturdy, lightweight hiking stick to an even sturdier bipod, making it easy to get to your favorite hunting spots and even easier to make the perfect shot.
Set in seconds to your desired height or sight line
Adjusts between 8 and 48 inches at the push of a button
Lightweight anodized aluminum design weighs just 17 ounces
Deep yoke holds gun securely while lining up your shot
Pointed metal feet with detachable snow baskets grab any terrain
Wrist strap and easy-grip rubber handles make it easy to use
PATENTED PRODUCT 
How does it work?